My "Li'l-Beauty" touring kayaks were created to fill two, (almost neglected) needs in the market today. They were my own needs about 3 years ago. First, I was simply priced out of the market, at $600 to over $1,000 for one and two-person touring kayaks! Second, my idea of this type of kayak means one that is suitable for a wide variety of things. Some of these are: simply exploring lakes and slow-running rivers, plenty of non-cramped room for fishing, camping, photography, plus space for gear in these activities.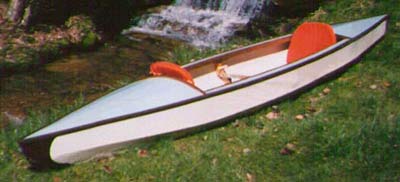 My two "Li'l-Beautys" are a 12 ft. for me and my gear, and a 14 ft, for two adults plus gear. Li'l Beauty can be made 15 ft. or even 16 ft. if two big adults will be using it.

I solved my first need by building my first Li'l Beauty in a 12 ft. version, then in a 14 ft. length for times when I wanted a companion. I built each for only $85 in materials! The second reason is for the versatility that is inherent in its design. Either length allows three seating arrangements! What other kayak allows the occupants to face each other from each end of the cockpit when taking pictures, fishing, or conversing? Or, they can sit in the usual tandem manner and both paddle. The movable second seat allows this. It also simply lifts out completely for huge cockpit space if one person is boating with a lot of gear. (A person could even sleep in the 7 ft. cockpit! ). The cross-bar at mid-boat can easily be removed, as it's needed only for a mid-seat backrest.

Finally, what about cartopping the 12 ft. at just 27 lbs. or the 14 ft at 32 lbs.!

I've recently sold my 200th. step-by-step building manual in its first year, with very little advertising. The construction is so simple because I spent 2 years perfecting it. I have photo-Info brochures for $2, but the manual with color photos and sketches, plus full-size template patterns is only $20 postpaid...so why not just get it all?! Send cash or money order, or check made out to Walter Head, HOBBYCRAFT.

Hobbycraft Kayaks
Department DM
1178 Laurel Fork Road
Vilas, NC 28692