New Exclusive
Bosch BLUECORE™ Batteries
Increase Life by 50%
And 30-minute Chargers Cut Charge Time in Half
2-year Battery Guarantee
With Free PROVANTAGE™ Tool Protection Plan
Mount Prospect, IL July 14, 2005 – The new exclusive Bosch BLUECORE™ batteries provide up to 50-percent more cordless battery life, while new 30-minute single and dual -bay chargers cut charge times in half. Completely compatible with all current Bosch cordless power tools, the new system promises to further improve upon the industry leading cordless platform professionals depend on every day. And supporting the new line is the Bosch guarantee that in the event any battery fails in two years or less, the company will replace it through its free PROVANTAGE™ Tool Protection Plan.
Each new Bosch BLUECORE NiCad battery – 9.6, 12, 14.4, 18 and 24 –volt – integrates advanced cooling rods positioned between the pack's individual cells. While other batteries would normally build up hot spots, which speed up chemical breakdown, slow the recharging process and eventually damage individual cells, the BLUECORE cooling rods absorb the heat to dissipate it away from the cells. This keeps the battery cool and functioning at optimal levels.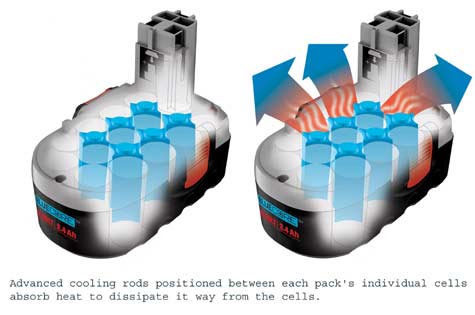 Further durability enhancement stems from a special sensor embedded within each battery pack designed to effectively measure internal conditions. When a BLUECORE battery is placed into any Bosch charger, the sensor communicates its conditions to a microprocessor within the charger. The charger then uses this information to optimize energy flow and maximize battery charge capacity. Users can expect up to 50-percent or more battery life over previous Bosch batteries, an unprecedented increase.
"Bosch specifically designed the new BLUECORE technology and 30-minute chargers to be compatible with our current cordless tool line," said Jeff Wilkison, director, Bosch cordless power tools. "Unlike other manufacturers' new battery technologies, our users will see a significant increase in life without the need to buy all new tools, a cost savings that can reach into the thousands of dollars."
The two new 30-minute chargers not only speed up the charging process for the full range of Bosch batteries, but also allow users to better understand each battery's status. Two LED light indicators constantly report on the status of each battery charging. And with a dual-bay charger, work crews can be ready to go even quicker than before. The new chargers will also charge older generation batteries.
Guaranteed Longer Life!
Since 2002, Bosch has provided its cordless power tool users with the industry's most reliable tool protection plan ever offered, PROVANTAGE. Designed for maximum uptime, Bosch extends this program to include BLUECORE. After purchasing a new Bosch cordless product, users either mail in the enclosed registration card, register online at www.boschprovantage.com or call 888-919-7272. Registering is absolutely free, affords users two-years of battery replacements in the event of a failure and eligibility for additional special promotions. More information about the program and various tools included can be found online.
Most Bosch combo kits will include two BLUECORE batteries and a 30-minute dual-bay charger by the end of 2005, with the first, the CPK40-18 4-piece 18-volt kit, available on July 1. The CPK60-18 6-piece 18-volt kit will round out the conversion in early 2006.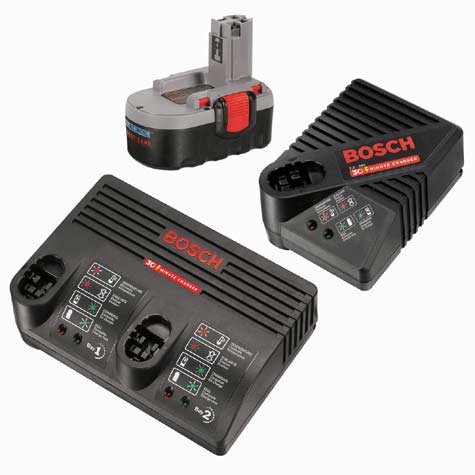 As for individual cordless tool kits, the 14.4 and 18-volt Brute-Tough drill/drivers will be available with two BLUECORE batteries and 30-minute chargers on July 1. All hammer drill/drivers and additional Brute-Tough drill/drivers will launch in the Fall, as well as the 14.4 and 18-volt Compact-Tough™ drill/drivers, and 9.6, 12 and 14.4 -volt IMPACTOR™ Fastening Drivers. Although the 9.6 and 12 -volt Compact-Tough drill/driver kits are fully compatible with BLUECORE and the new 30-minute chargers, they will continue to include previous generation batteries. For users who desire to upgrade their kits, all BLUECORE™ batteries and 30-minute chargers will be available individually. All other individual Bosch cordless tools - jigsaws, reciprocating saws, circular saws, planers – will be available with BLUECORE by the end of 2005.
About Bosch Power Tools and Accessories:
Bosch Power Tools and Accessories is one of the divisions within the $1 billion, 4,000 employee strong Robert Bosch Tool Corporation, which is the North American branch of the largest power tool and accessory manufacturer in the world, Robert Bosch GmbH. Bosch provides a complete line of corded and cordless power tools and accessories engineered to survive any jobsite and allow professionals to take control of their work. For more information, call toll free 877-BOSCH-99 (877-267-2499) or visit www.boschtools.com.
About Bosch North America:
In addition to power tools and accessories, in North America the Bosch Group manufactures and markets automotive original equipment and aftermarket products, industrial automation and mobile products, security technology, packaging equipment and household appliances. Overall, Bosch employs more than 23,300 associates in more than 80 facilities throughout North America and reported sales of $6.6 billion in 2003. Visit www.bosch.us.
# # #