Electric Schock (update)
design by Gavin Atkin
This little boat is simply a stitch and glue version of the classic Edwin Schock dinghy of the early part of the last century - so it's a 14ft ply and 'poxy version of a real classic that comes out of just three sheets of ply.
I think it can be reasonably built as a quick and dirty one or two weekends job, but as it is a classic many people might equally decide to gold plate it - that is, to build it with care and finish it with pride.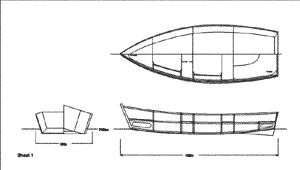 (click images for larger views)
When I first drew her up four years age, for some reason I had it in mind that while some would build her by stitch and glue, others would build the Electric Schock using the traditional method with a strongback, and spent some time drawing one up.

In fact, looking back on the drawings after several years, I'm now quite sure I'd save the effort on the strongback, even if I was building the traditional way with chines - this boat is perfect for the traditional method of skiff building: attach bows, then attach the sides to the frames and transom, then turn over and attach the bottom.

In slightly more detail and adapting for s&g, this is how it goes: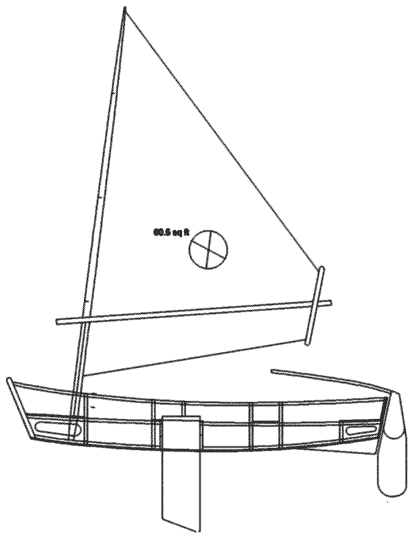 The rig as drawn is somewhat snug, but that's no bad thing for a boat that's unlikely to be used always within sight of a formal sailing club. Any sail would need to be cut with some darts in the corner - there's no better place for detail on how that should be done than Jim Michalak's excellent pages. There's usually a link here https://homepages.apci.net/~michalak/ but if you can't find one, check here https://marina.fortunecity.com/breakwater/274/ . Jim's pages are always worth visiting in any case.
Gavin Atkin, Tunbridge Wells, April 2005
Copyright Gavin Atkin