The Millennium Stripper
a 14'10" Osprey Canoe
by Jose Joven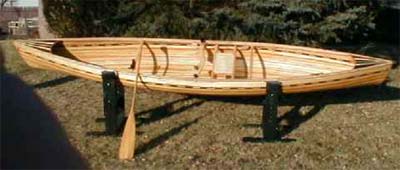 It was midwinter and Baby, it's cold outside. The local rivers and lakes are frozen and anyway, it's too cold for paddling. What is a guy to do with his time while waiting for spring? My solution to the winter blahs has been to start hanging around with a Stripper. No...I don't mean Lucious Lucy or even Buxom Brandy, but a yet to be named strip canoe!
Having spent the past year researching construction techniques, pouring over several books and making friends with other builders on the internet I finally cleared a place in the garage and started construction around Thanksgiving. I purchased a set of blueprints that gives me a license to build one boat. The design is a 14' 10" solo canoe called an "Osprey" by John Winters, a well known Canadian boatwright. The Osprey is made for wilderness tripping and has a rated capacity of 285 lbs. It has 1-3/4" rocker at the 15" bow, and 3/4" rocker at 14" stern and should be quick turning, but also good tracking. The boat is 35 inches wide amidships but has tumblehome so the width at the gunwales is only 28 inches. The hull is bead and cove white cedar which is the lightest North American wood. I also fashioned a "feature strip" from dark red western cedar and basswood that looks like little "arrows" marching down the sides. The trim will be traditional ash with a caned seat. The boat should weigh around 45 lbs when it is done.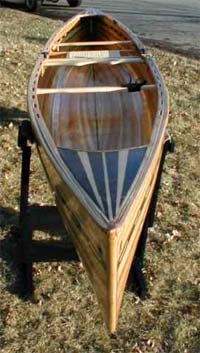 All wood and supplies were purchased over the internet from Noah's Marine in Toronto. Some might call it a "kit" but believe me I only saved the drudgery of ripping and routing the 1/4 x 3/4 inch strips. Besides my own customization, there is still plenty of work, from building the strongback to lofting and cutting the moulds and then of course fabricating the boat.
A word on construction for those who are unfamiliar with the process. A strongback is the foundation of your canoe building process. It can be as simple as a ladder, laid between sawhorses or a reinforced box beam on custom legs. It must be level, arrow straight and solid enough to support your canoe through construction.
A mould or "station" is a cross-section of the canoe at various intervals. Mine is every 12 inches. A set of 12 moulds is attached to a strongback. Stem moulds are joined at the ends. This is the form of your canoe. The boat is upside down, gunwales on the bottom, bottom on the top. All must be level, square and fair. Ash stems are steamed, bent and laminated over the stem forms. The 3/4 x 1/4 inch strips are attached longitudinally to the form usually with staples or small nails. The strips are glued together at the edges using regular wood glue. Again all must be kept in alignment. When the bottom or "football" is closed remove all the staples or nails, since they are glued the strips are held together on the form. You now begin to "fair" the hull by planing, scraping and sanding. oh boy do you sand!. After the hull is smooth to your satisfaction laminate it with fiberglass and three coats of epoxy. When it is cured and hard remove the hull from the forms and turn the boat right side up on a cradle to fair and laminate the inside. Then install the gunwales, decks, thwarts and seat. Finally several coats of UV protecting spar varnish inside and out and the beautiful new canoe is ready for launching. It should take about 50 hours to build depending on your patience and level of competence
My canoe is being built stapleless so that means there aren't a thousand little holes in the hull. It takes longer to lay the strips than using nails or staples but it's worth the effort and in my opinion, will yield a more beautiful boat. There are problems building stapleless, like trying to keep the strips in contact with the forms when making compound bends towards the bow or stern. If the strips do not touch the forms you aren't building the same boat as represented in your plans and it might not perform as well. But by using a few ropes and the Truckers hitch we somehow kept the strips fair and the boat in specs.
There are many new things to learn from this project, like "scarfing" isn't just chowing down on a sack of White Castle hamburgers. It's also making long wood strips out of shorter ones with an almost invisible joint. A joint that is as strong or stronger than the original wood. I have gone from being a Tool Time Tim with a hammer, circular saw and screwdriver to buying, learning how to use and keep sharp spokeshaves, cabinet scrapers, finishing planes, a crooked knife (thanks to Dan Clark), to laying up epoxy, and buying clamps...clamps...and more clamps! I have also made many new friends on the internet who have been extremely generous with their time, knowledge and expertise. My boat is a good first effort, but some of these craftsmen are building canoes that are furniture quality works of art.
A wooden canoe is not just a utilitarian tool, it is a thing of beauty. The wood strips accent the smooth lines. The beautiful iridescence of the woodgrain glows, alive. Paddling any boat may take you to new horizons, but merely looking at a wooden canoe transports your mind to another time and other places.
If you have ever thought about building your own stripper canoe my advice is to go for it. There are many good solo and tandem designs available. Anyone can do it with a little preparation and a lot of patience. When you are done you will have an heirloom boat that will be admired by all your friends.