In Memoriam...
Platt Monfort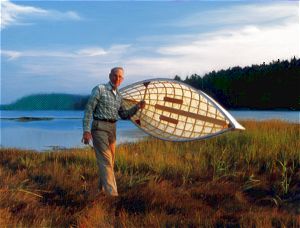 Platt Monfort, 84, died Thursday, June 8, 2005, at Winship Green Nursing Center in Bath, Maine. He was born in Huntington, New York, son of Platt Monfort and Helen Monfort, predeceased by two sisters, Lillian Brush and Edith Koernig.
Graduated high school and Pratt Institute, New York City, New York. Served in the Navy as an air cadet, received ensign rating culminating in his pilot's license.
Married Betty Law in 1946. Lived in Huntington, New York, 25 years and moved to Maine in 1970. For 15 years he was a chemical engineer at Fairchild Guided Missiles in Bethpage, New York. He then started his own business, Aladdin Products, Inc. Patented "Git-Rot" (a rot restoring epoxy) for the marine field. Developed Wire Plank and Feralite to cover wooden hulls, built a 45' Ketch to prove the system.
Built a Kolb Utralite airplane and flew that, then bought a Cessna 150 from payment for a book, Styro-flyers, that Random House printed, about using MacDonald's breakfast trays to make various paper airplanes.
Loved his motorcycles, had several different brands, Harley Davidson
his favorite!
Latest innovation was Geodesic Airolite boats, fabric covered lightweight boats, offering plans and partial kits for canoes and Whitehalls on the website gaboats.com.
Survived by wife, Bette Monfort of Westport Island, Maine; a son, Gary Monfort, daughter, Susan Monfort, and two grandsons, Ryan Delano and Tim Monfort. At his request his body was donated to New England College of Osteopathic Medicine. No funeral or memorial services.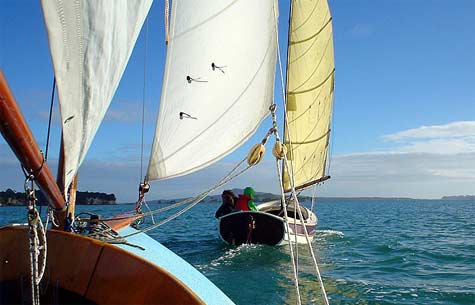 Here in New Zealand its dead midwinter, the shortest day was about last monday (my wife's birthday) but its still good boating weather if you remember to take your wetties and are prepared to wait if the weather goes a bit sour for a few hours. Dave Perillo in his Navigator Jaunty and Paul Groom in his Pathfinder (both JW designs if you don't know them) are keen cruisers and are still out and about in spite of the season. Dave P has put up a wonderful photo set on his website here,
something to inspire us all and show the northern hemisphere folks what a New Zealand winter is like.

John Welsford



Chuck and Sandra,

Enjoyed the article on Messabout, attached are some pics of ACDC going up in flames, only took 20 minutes, not too much there. Only second boat I ever burned, they are usually sold/traded/donated/given...+ one lost in flood.
(click images for larger views)
Just started C100 boat, had to fix air compressor first and finish Steve's boat which needed an air filing and spray varnish to finish. I started roughing out the rudder from 1/4" aluminum. Will mount the Gps bracket via an extra piece of wood on the deck, can't afford to make any holes in the capstrip at the footwells. Hope to get the stringers glued in this weekend and turn boat over to trim out deck/footells etc. Probably earliest we'll be able to paddle is the last week of July. Really looking farward to it.
Skip


I'm on the way to the store.... and I just solved one of skiff-boating's biggest problems: a fitted cover that allows road travel AND quick set up when at your destination...pix to follow.....well worth the $750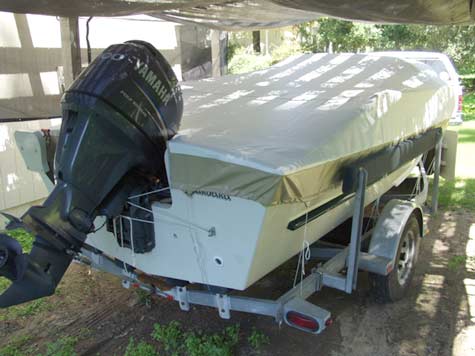 Santa Barbara is not a 'trailer-boat' kind'a town....more a slip-in-the-harbor sort'a town......and the canvas makers in Santa Barbara all told me that you really can't make a cover for an open boat that will take 2500 freeway miles at 70mph. The result of believing this has been three hours of work (wash, dry, setup - take apart) at each end of a long tow, whether to Lake Powell or British Columbia. Turns out the local canvas makers never went to the ferry departure parking lot in British Columbia, a lot full of fishing boats from as far away as Texas, all coming for the salmon and all equipped with drum-tite, heavy duty vinyl covers. I went Ventura and found Ron's Custom Upholstery. Ron's a real old-school pro. He spent two hours measuring my Tolman skiff and told me to come back in two days. Made of the heaviest vinyl available, the cover fit like a glove, first time! When Ron drew up the skirt draw-string and tied the sides to the trailer, the cover was 'quarter-bouncing' tight! He warned me about abrasion on my varnish sheer and condensation when left in the sun. All in all, one of the best custom experiences ever and the finishing piece on a project begun nine years ago. Trent-Severn, here I come! Bruce
......Bruce



The 4th Annual Lake Charles Yacht Club 'Messabout' will be Saturday, August 6, 2005. Admittance is free. Come spend the day with us.
Location is on the north beach of Lake Charles, Louisiana, at the I-10 Bridge.
Activities begin at 10:00 ish and continue all day. Hot dogs will be served at lunch and an evening meal will be served. All Free! Camping is permitted at the club, but there are no hook-ups.
There are no structured activities, but, we will host a Puddle Duck race sometime during the day. Puddle Duckers are requested to bring a home-made, or otherwise, trophy.
Also, during the day, we will have the 'Battle of Lake Charles'. This will be a water war using squirt-guns, buckets of water, balloons, and etc. (Bring nets to capture used balloons.)
The rest of the time is for messing about in boats of all kinds.
Ken Abrahams



This is a sister vessel to the one that I went north on. Hope the wind does not come up and blow it over.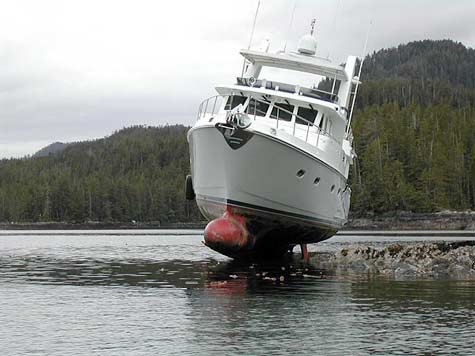 Here is another interesting photo: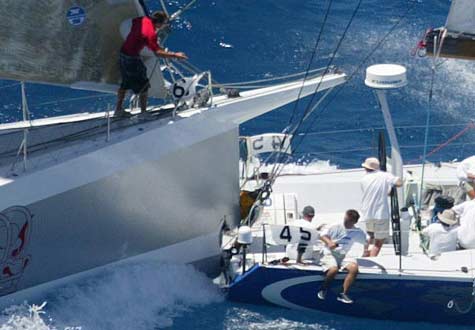 and this one has a story: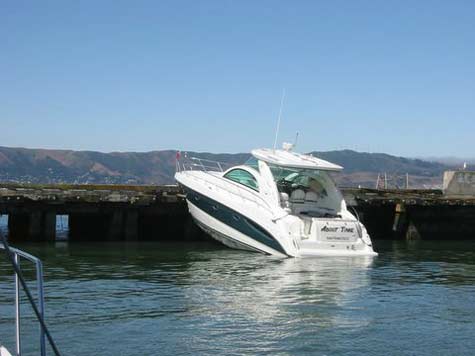 july 4,2005 status report to zurich insurance:
betsy taylor (zurich insurance)
9 people were on the boat june 29
3 were injured and hospitalized; two physicians and paula vail.
the rest of the people are essentially physically unharmed.
The injuries were a result of falling forward and down 5 steps into the
salon on sharp furniture and each other.
All had extensive tests and xrays. MRIs are all clear.
mrs vail has a broken ankle and two broken forearms, is in the hospital and will probably require care for 4-6 weeks since crutches are not a
possibility with broken arms.
the two physicians are now resting at home. dr david ellison had blood in the brain which is clearing. dr stephen weller has a broken collarbone, a compressed disc and a fractured vertabrae and expects to practice in a week.
as of this time, the attitude of everyone is suprisingly positive without
any evidence of anger or resentment. "we were having such a great time until the last minute." "it could have been much worse" etc.
the boat is in an enclosed building in nelson's boatyard in alameda.

Bruce Armstrong

NauticalCharts.Com
Free CharTube Offer
Free CharTube Offer

Just in time for the 4th of July weekend, order 3

Waterproof Charts

3

NOAA Charts

or 3

POD Charts

and receive a Free CharTube. CharTubes are the clear, tough way to store and organize up to 12 charts. CharTubes for Waterproof Charts are 25" long and priced at $12.95, CharTubes for government charts and POD's are 42" long and are normally $14.95

Order your charts before July 1st to take advantage of the free CharTube offer!

Learn More about all Chart Products!

Nautical Charts.Com is the easiest way to select all types of charts. With a click of your mouse, you can view areas of coverage, check your plotter compatiblity and order for immediate shipping. Order with confidence online or by phone - call us today toll free - 1-866-624-2787

Sincerely,

Kerri Kibbe - NauticalCharts.Com

phone: 866-624-2787





Date: June 12, 2005
Contact: Aux. Wayne Spivak
Division Chief - External Communications
Public Affairs Department
United States Coast Guard Auxiliary
https://www.auxpa.org
516-353-9155
Media@auxpa.org
National Media Alert
Fishing Legend Bill Dance Casts A New Line on Boating Safety In Preparation for July 4th Weekend
U.S. Coast Guard Says Anglers/Water Fowl Hunters at High Risk for Boating Fatalities
As thousands head out to the water for the July 4th weekend (known as one of the most active boating weekends in the summer months), Bill Dance, current star of the Outdoor Life Network's Bill Dance Oudoors and the U.S. Coast Guard's newest national spokesperson, kicks off a public service campaign to promote boating safety to the more than 78 million boating enthusiasts in the U.S.
According to the U.S. Coast Guard, on average, anglers and hunters alone account for one out of every three people who die on the water each year. The public service campaign is designed to promote the U.S. Coast Guard's multi-year, national initiative "You're in Command. Boat Responsibly!" Through media interviews and public service announcements, Dance reinforces the four components of the U.S. Coast Guard boating safety initiative, including: always wear your life jacket (available in a variety of styles tailored to individual water sports); never boat under the influence (BUI); take a boating safety course; and get an annual Vessel Safety Check (VSC).

In order to assist you with boating stories or PSA placement, the U.S. Coast Guard will provide a video news release (coordinate details below) which includes B-roll of Bill Dance, boaters, the new and improved life jackets AND a :30 public service announcement featuring Bill Dance. In addition, we have included three other :30 public service announcements featuring other celebrities who have supported the U.S. Coast Guard "You're in Command. Boat Responsibly!" initiative - whitewater kayaker and Olympic Silver Medalist Rebecca Giddens; boating enthusiast and actor John Amos; and NASCAR's Labonte Family.
Media Contacts for more information:
Vanessa French vfrench@pcicom.com or Elizabeth Garavaglia egaravaglia@pcicom.com
(703) 823-1600 or visit www.uscgboating.org

####

Barcelona, 05th july 2005
Hello ,
The sun is here, and under the sun new colours, new horizons, new breezes. Everything looks different. For those which notice it, and especially for those which do not notice it, I recommend you to sail in the Sant Isidre and check it by yourself.
Think about it . You can make groups of up to 25/30 people for trips by day, and groups of 12 people for a tour of more than one day. You already know it: there is boss, sailor and cooking service.
PROGRAMS OFFERED
CULTURAL TRIP
3 hours of cultural cruise.
Departures at 10:30 a.m and at 04:00 p.m.
Arrival at 01.30 p.m and 07:00 p.m.
Prcie: 18€ per person
For families of more than 3 peoples, the 4th pay only 10€
ONE -DAY TRIP
Trip of one day thought the Natural Park of "Cap de Creus" for group of 30 person maximum.
Price: 835€
This price does not include meal nor VAT.
Optional: Meal on board 25€

Let's motivate! Let's sail!
To book, you can call to Francesc Despuig at: Ph.: (+34) 972 258 976 Mob.: (+34) 637 085 or to Xavier Grau at +(34)93 238 48 48
With fond regards,
Andreu Alsius - Francesc Despuig - Xavier Grau

New Version Fugawi Chart Software for your computer
Free Charts plus cool new features !
The newest features from Fugawi ENC software include... 3-D View, full Street detail on land, Marine Services, chart updates and more!

Fugawi ENC software enables you to use the new FREE NOAA ENC CHARTS with as point and click route creation, GPS data transfer, on-screen real-time GPS tracking and easy chart printing. Click here for frequently asked questions about FREE NOAA ENC CHARTS




............Electronic Charts!

We have all major brands of electronic charts for your chart plotter and for your PC. Our locators make it easy to find your region - just click to select!