| | |
| --- | --- |
| From the Drawing Board | |
By John Welsford - Hamilton - New Zealand

The Plimmerton Classic Boat Regatta 2006

I had been to the first one of these the year before, and had a great time among some really good people and enjoyed playing with a whole lot of interesting boats so it was no surprise that I was on the road south this march to attend the second happening.
John Chipper and the rest of his crew had the event well organised, the Plimmerton Yacht Club was ours for the weekend, the two big launching ramps and the clubhouse bar got a lot of use and the dinner on Saturday night was a great night out. I had the job of allocating and giving out the prizes, and of being the speaker for the night. It all went well and no one threw eggs or tomatoes at me, nice people those Wellington types.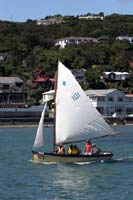 The 16 ft clinker built Sea Scout Standard "Aurora" was possibly the most original boat at the regatta, she has been maintained but left almost unchanged since whe was built way back in the "50s" . Her gunter rigged main and all wood spars are now a rarity , as are the steamed frames and grown knees and breasthook. Its great to see a piece of history like this still being used as intended. In the background you can see two storied Moana Lodge, organiser John Chipper's excellent backpackers lodge, right on the waterfront and for those who travel in this area its within range of both the ferry and airport, and just imagine the view from the window of your room! Yes he has a website, check my links page on my website
(click images for larger views)
We had around 40 boats entered, several other just there watching, and near perfect weather. Events like this build friendships, although it may be that you'll only meet someone from another part of the country at one event a year a relationship grows that does not take account of the 12 months between each meeting, and it was with real pleasure that I caught up with people who I'd met up with the year before, and with some old friends from years past.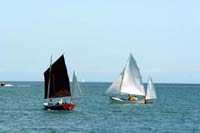 The Navigator Class'Y was built as part of an evening class, and owned by a retired Headmaster ( School Superintendent) hence the name, and some people really like to play so the rig on this Houdini (red and blue boat) is now a two masted boat with a balanced lugsail main. Both of them having as much fun as it is possible.
I went out with Boat restorer Peter Murtens in his near century old working pulling boat "No Catchem" . She now has a single cylinder Simplex 5 hp marine engine proudly sitting amidships and makes a good 5 knots at about 450 rpm, while she shakes a bit at top speed this old motor is wonderful at slow speeds, I was fascinated to sit and listen to the gasp as the inlet valve opened, the gentle rattle as the cams opened and closed the valves, and the "pumph"as the exhaust valve opened, then the cycle repeating like a little workhorse breathing hard as it pushed us around the harbour watching the yachts racing.
| | |
| --- | --- |
| | This event is not only for sailboats, this little launch is undoubtedly a conversion from an open boat but whoever did it kept her character right and she is a lovely little thing. |
I borrowed Heather, another boat from Peters workshop this one an 18 ft racing pulling boat from a long time back, and enjoyed the effortless speed and carry of the old clinker built speedster, I went out with Bill Salter in his lug rigged 14 footer, originally to my Rogue design but much modified. We had a good time in the race, playing with the sail setting while enjoying much good conversation and at the end of the race we'd made up a lot of places which made the race doubly enjoyable.
| | |
| --- | --- |
| Cedar strip built canoes are still very popular, and if well done attract a lot of attention. This one is a very well finished boat, amateur built and a good example of what can be achieved by a patient builder. | |
There was a wide variety of boats there, from my point of view the 6 Navigators of my design were a heart warming sight, the lovely veterans that are increasingly popular add real atmosphere to the event, the rowing boats and kayaks , the launches and even a converted Motor Fishing Vessel mooching around with spectators aboard all contributed to the feel of the day. All this with a Jazz band playing on the afterdeck of a boat moored just off the clubhouse!
To really top this off we had a short aerial display from a De Havilland Tiger Moth biplane and a North American AT6 Texan, known here as a Harvard. All this and spot on weather. Great stuff!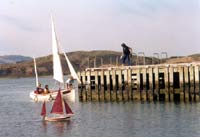 Not all of the boats were full sized, the builder of this miniature yawl has had a few injuries and is getting on in years so rather than have trouble handling his beloved Navigator and risk damage to himself and the boat he built a detailed radio controlled model. Note that Class'y in the background is a good example of the full sized thing.
I took a few pics, but being honest I was so busy chatting to people, drooling over boats, playing with boats, chatting to more people, asking and answering questions that my camera was somewhat underused so its with gratitude that I received an email with 101 photos of the event from John Chipper. I've put a selection below for your enjoyment. Thanks John, much appreciated. For those of you who can get to Wellington next march, make sure you keep an eye out on my site (www.jwboatdesigns.co.nz) in the coming events for next years happening.

See you there, John Welsford.

Click HERE for a list of articles by John Welsford