| | |
| --- | --- |
| Ladybug | |
By Bob Gerfy - Lopez Island, Washington - USA
Here are some photos of my Ladybug in progress -- in a borrowed barn on Lopez Island, Washington. It's tipped for filletting and taping the side-bilge joint. The central form has been moved to allow for tape but retained in order to prevent distortion of the side panel.
I've left the stem long in order to cut and shape it later -- a little, a la Pete Culler.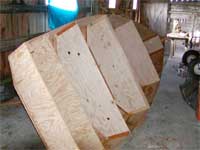 (click images for larger views)
I've been trying to get basic assembly done before winter hits. That way I can make parts in the shop over the winter.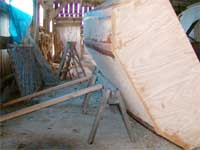 I think the plans show a false stem added forward -- square? I might bevel it. Can the stem serve as a samson post?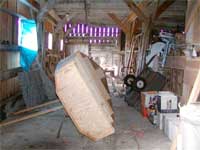 Thanks for the design, Jim. Chuck, I chose this design in part because of your experience with it. Thanks -- and for the fiberglass supplies.