| | |
| --- | --- |
| Band of Brothers | |
Book Review by Joseph Ditler - Coronado, California - USA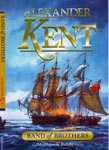 THE ADVENTURE CONTINUES
Author Alexander Kent Returns With A Bang
"Band of Brothers"
By Alexander Kent
Publisher: Random House
ISBN: 0-4340-1010-3
130 pages
Suggested Retail Price: $19.95
The three greatest sailors who never lived are, arguably, Horatio Hornblower, Jack Aubrey, and Richard Bolitho. Their combined exploits at sea have entertained readers since the 1930s, and inspired an armada of imitators. The world of maritime fiction is literally framed and planked upwards from their keel.
Of these magnificent storytellers, Bolitho's creator, author Alexander Kent, is the only one still living. Kent has just finished his newest book, "Band of Brothers" -- a long-overdue novel dealing with Bolitho's early career as a midshipman.
The author, whose real name is Douglas Reeman has been producing novels regularly since 1968, and now boasts more than 22 million books sold. They are printed in 16 languages, including Finnish, Polish, and Portuguese. Japan is their third largest market (Forester began his series in 1937, and died in 1966, O'Brian started his series in 1970, and died in 2000)..
Wars are fought with powder and shot, cutlass and cannon, stout ships and gallant men. Kent's hero, Richard Bolitho (pronounced Bo-LYE-tho), is a clear manifestation of this credo. Unlike Hornblower and Aubrey, Bolitho fights a fleet action in nearly every book.
His war is not hopelessly lost ashore with property woes, political challenges, hiding from the French, or endless domestic disputes, but instead is won at sea aboard the decks of a fighting ship of the line, just where his readers like it the most.
Kent, in case you have been asleep these past three decades, documents the fictional adventures and battles (and loves) of Richard Bolitho and his young nephew Adam, during the Napoleonic-era, at sea, aboard England's great fleet of wooden ships.
The author saw plenty of real life action in WWII. He was blown up twice, had ships sunk out from under him, and once spent 11 hours bobbing around the cold North Sea before being rescued.
Reeman (Kent) returned from the war, finished his naval career, and then began to write books. He wrote novels about the war under his own name, but discovered there was a huge audience of readers hungry for tales from the Great Age of Sail. He took on the nom de plume of Alexander Kent, the name of a childhood friend who did not make it home from the war.
Now, 60 years later, the author has published 36 books about WWII naval history under the name of Douglas Reeman, and 27 books about the Napoleonic Era under the alias of Alexander Kent. The latest novel by Kent is called "Band of Brothers, and has just been released in this country.
The series has been thriving. But now, 27 books and 35 years later, Alexander Kent has finally answered the question, "What happened to Midshipman Martyn Dancer?"
The prolific author skipped a chapter way back in 1972. He probably didn't think much of it at the time. But his readers were relentless. They have nagged him for 30 years to solve the mystery of Martyn Dancer's disappearance from the series.
With this newest book, "Band of Brothers," Alexander Kent mollifies his readers on two accounts. He answers the question of Dancer's fate, but more importantly, Kent clearly demonstrates to readers that he is still alive, in fine writing form, and continuing to document the fictional lives of the sailing Bolithos.
"Band of Brothers" is designed to chronologically follow two other books, "Richard Bolitho, Midshipman," and "Midshipman Bolitho and the Avenger," All the Bolitho novels are stand-alone, not requiring readers to have read the entire series (although you will certainly want to).
This latest book is a necessary addition to the Bolitho collection. Kent's readers are known to purchase half a dozen novels well in advance so they won't experience a pause in their reading while trying to find the next book. It's a fever every Forester, O'Brian, and Kent reader knows all too well, and explains at a glance why these three authors have had so much success.
As a midshipman in "Band of Brothers" even the young Bolitho demonstrates his trademarks as a man are not limited to bravery, leadership, and seamanship. His compassion for those who serve under him begins here, and, of course, grows legendary in ensuing novels as his rank and responsibility grow.
One of the problems for American readers has been access to Kent's books. Finding certain books from the series is like looking for Captain Kidd's treasure.
New readers to Alexander Kent, however, can find hard-to-locate earlier novels from this series, as well as new Kent titles, at McBooks-Press out of New York. Contact them at www.mcbooks.com or call 1-888-BOOKS11 (1-888-266-5711).
For more about Alexander Kent visit the author's official website at www.bolithomaritimeproductions.com.
Postscript: A new Adam Bolitho saga is currently being penned for release in the summer of 2006. The adventure continues.

Other Articles by Joseph Ditler: