I am a regular Duckworks visitor and so far have built a Michalak "Toto" as a year 9 "Personal Best" school project (another article will follow one day) and a one sheet skiff with Dad as our entry to boat-building. I had been wanting to build a larger boat more suited to fishing in open waters for a while.
The choice to build an AF4 Breve over all of the other designs out there in the big wide world of cuddy power boats is the fact that it was pretty easy on the eye, simplicity of construction and the smaller bill of materials than a lot of the other boats its size.
Plans were ordered and after Christmas I had enough funds to purchase the plywood. I started to collect all of my materials in January 2007 from my local timber yard. I have used a high grade exterior ply as marine ply was at least double the price.
With Dads help, I marked out and cut the side panels, transom, bulkheads, temporary forms and lengths of timber to strengthen around the perimeter of the bulkheads and transom. This took a couple of evenings.

The next stage was attaching the strengtheners with the best glue in the world "epoxy" (it is a godsend) and cutting all relevant bevels on the sides and the bottoms where required. Cutting bevels seemed to be the trickiest part so far.
When the epoxy had set, I dry fitted the whole boat to get a feel for the size of it. It is the biggest and first motor boat that I have built. I was impressed with size of the cockpit and cabin. A little imagination was used in planning the layout of equipment that I want to include in the cabin. At this stage I plan to have a small camp stove, esky (icebox), sink and bunk, a tight fit but "do-able" I think.
When finished building my boat I will most likely be using it in the bay where I live which is only a few kilometres away. Weekend camping and fishing trips to the Mighty Murray River and Gippsland Lakes (3-4 hours away) may also be a possibility. My other goal is to get it looking all nice and presentable so I can take it to the wooden boat festivals around Australia over the course of the next couple of years.
I am under the impression that this is only the second AF4 Breve built other than the prototype and may be the only one in Australia. I would like to hear from any other builders of AF4 Breves. I will also keep you updated on my progress. Currently I am saving pocket money for epoxy.

Until next time, happy building,
Daniel Peterson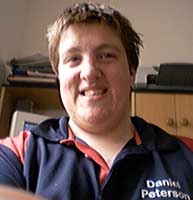 Hi everybody,
My name is Daniel Mark Peterson and I am 16 years old. I live in Geelong Victoria Australia and am a full time year 11 student at St. Ignatius College Geelong. I have been building boats for around 2 ½ years. I'm starting to get the hang of it. I like all aspects of boating from building, through paddling, sailing, motor boating and fishing.