By Chuck Leinweber - Harper, Texas - USA
| | |
| --- | --- |
| | |
It's been several years since Brian Anderson and I "met". I feel like we are pretty good friends even though we may have never actually stood within a thousand miles of each other. Such is the world of the internet. In fact, it was my foray into the world of online publishing that brought us together. Brian edited a number of excerpts for Duckworks that reflected his ideas of real adventure in boats (see links at the bottom of this article). Brian has been there and done that and knows what adventure is all about but these stories are not what you might expect.

Eventually, Brian found a publisher who shared his vision. He and Garth Battista at Breakaway Books put together a collection of 40 stories by authors ranging from Robert Louis Stevenson to Robb White. Anyone who reads Duckworks should have this book on their summer reading list.

Probably the best way to explain Brian's vision is to let him tell it in his own words. Here is the introduction to the book, "Small Boats on Green Waters". Please accept this in lieu or a "real" book review and tell me if this does not embody the Duckworks philosophy.
– Chuck -
It has often struck me how, when one speaks of nautical literature, it often seems to be first and foremost stories of wooden ships and iron men, perfect storms, exotic ports, and long passages. In the magazines, one reads of "go anywhere boats" and "real blue water cruisers," of selling up and setting off into the blue.
As a boat nut steeped, like many of us, in those kinds of stories, it always seemed the natural thing to think of the ocean passage as the Holy Grail, and a trip in a canoe or rowboat or daysailer as a stopgap. I dreamed of someday spending days alone between sea and sky with maybe an albatross or a school of dolphins for company and then stepping from a sturdy little sailboat onto the quay at Marseilles, Istanbul, Tahiti, Shanghai, or a hundred other ports whose names hung in the air, as pungent as the spices, salt cod, ambergris, whale oil, and incense that drove men over the seas in the first place.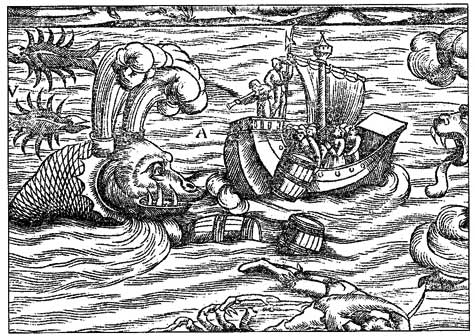 So you can imagine my thoughts when I found myself the owner of the 28-foot "real blue water cruiser." Over three years, with friends and alone, I stepped from the deck of my sturdy little cutter, Lookfar, onto a dock or dropped the hook in some legendary places: Louisiana's bayou country, Norfolk, Horta, Lisbon, Cartagena, Barcelona, Marseilles, Pilos, Rhodes. It was the adventure of a lifetime. I don't think I could have turned my back on it, and given the chance to do it again, I probably would.
But there were times, weeks, when I found myself thinking more and more of my time on the river in my hometown. Bobbing around in the Gulf of Mexico, waiting for a tropical storm to arrive; twisted up like a pretzel in the engine "room" trying to get a wrench on a stubborn bolt when everything I touched immediately became slick with sweat; days on end of sea and sky and nothing alive between them except me; when the wind started to blow cold out of the north and seas built and there was still nothing but sea and sky and after a week or so of it I started to forget that there was a time when I was not tired and cold and wet and afraid. Wrestling with the engine, I dreamed of a paddle. When I had been days without seeing another living thing, I longed for a river, its banks teeming with life and something new to see around every corner. In bad weather, I thought of paddling a few yards to the bank and snugging down in my tent, a book like this one in my hands (or let's be real here: a certain couch, warm and dry that almost never bounced around like a rubber duck in a washing machine filled with cold salt water).

Some people are just never happy, I guess. You can take the boy out of Ohio, but can't take Ohio out of the boy. In the arms of an exotic beauty, my thoughts always turned to the girl next door. Go figure.
So when a friend asked me to do a book-excerpt column for his online small boats magazine, Duckworksmagazine.com, I decided to concentrate on stories of small boats on green waters, for want of a better way to put it. Good stories of messing about in small boats one does not need a wad of cash the size of Texas to own, or in places that could be a couple of miles down the road. Although I must say I wasn't able to resist the story of Blackbeard's demise and a naval battle or two when I ran across them. Few of us are likely to take a 600 ton frigate into action these days. But at least they took place on our collective doorsteps, even if they do stay a little into the realm of "wooden ships and iron men." There's plenty of adventure out there, if one is looking for it. As it turned out, there was a lot of material, and so I thought it would be a good idea to gather together the best passages I could find and do a book.
Small Boats is certainly not exhaustive, and there were probably as many good writers I left out as put in. Mostly, I figured that if one could walk into one of the big stores and find an author's books on the shelves in the boat or adventure sections, there was little point. But maybe down the road there will be a second book. I hope that the excerpts that are from familiar works will give pleasure again, and the ones from new authors doubly so. One of the best things about reading through the books for Small Boats was the number of new writers I discovered in them. People who write books on a subject tend to read quite a bit, and so one good book will often recommend two or three others. One could follow the threads in these books for years.
Brian Anderson.
Small Boats on Green Waters is available from Duckworks

Excerpts by Brian Anderson that appeared in Duckworks: