| | |
| --- | --- |
| March Reports | |
By Duckworks Readers

For your classified ad section:
Boat in need of some finishing off and tidying up.
Would make good Winter project.
Lying: Crosshaven,Ireland.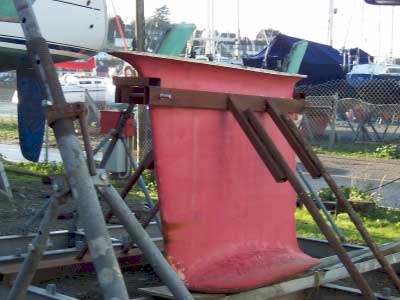 Pat O'Leary, Crosshaven, Cork, Ireland


Hi,
No Florida this winter as we're awaiting the birth of our 3rd granddaughter. As a result have been spending lots of time building boats including a model 2 masted schooner and another stripper.
In an effort to give back something to the community I've been working with kids in an after school program building these 1 sheet canoes. The first 2 are almost finished and now we'll start a "Cheap Canoe."
Best
Steve Fisher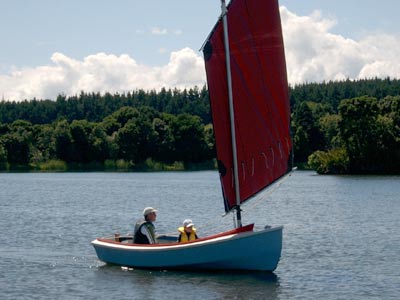 Heres a nice shot of Chester Rowles and grandchild in the Truant that Iain Mitchell built in my workshop. Thats me sitting in her trying out the skippers seating position.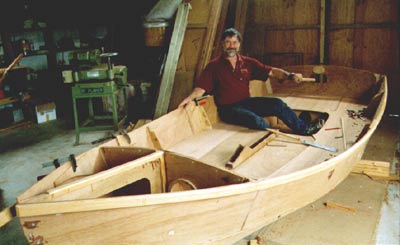 Chester is the man who built Jaunty, the Navigator that David Perillo at www.openboat.co.nz uses to such good effect. he's bought a smaller boat as being better suited to his sailing waters near New Plymouth on New Zealands North Islan West Coast and seems here to be having a great time in the little lug rigged 11 footer.

"The Black Strait" northern opening today. Ice is open and the fog is rolling in.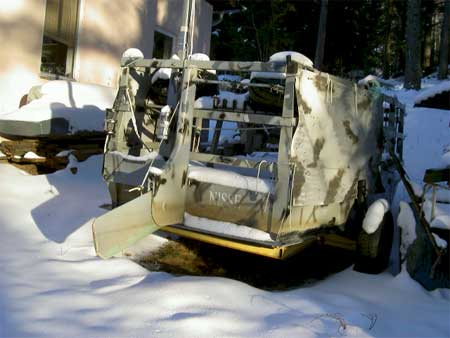 Nisse is resting
Arild took the pic today.
Hälsningar,
Dejan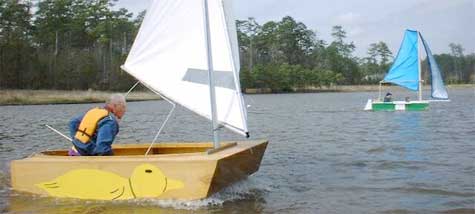 I just uploaded the info page for the PD World Championship Race:
https://www.shortypen.com/events/2006/world/
Shorty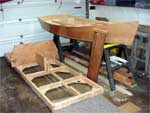 Hello Chuck!
Thanks for your interest in this little boat. Clancy is a class sailing skiff which was designed by Rich Kolin and developed by Bob Pickett.
I'm currently building this little boat and I'm quite impressed with the quality of work that went into making both the book and the plans (which were taken from the book)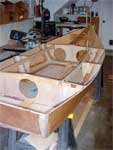 There is a very good book published by Mr. Pickett. This is a very concise construction guide in which the boat can be built, but with plans provided by New Yankee Workshop, becomes somewhat easier!
I am not yet finished with my boat, I've included a couple of pictures of it under construction, one of which was taken tonight. I started this boat 1 week before Thanksgiving, and I anticipate its completion and maiden sail at the end of February. I'll be sure to send you some pictures from that sail!
Vince Hoffmann

Chicagoland Spring Messabout 2006 - May 6, 2006
(click for more info)
Did you like how I made that sound like we've been doing it for years? Actually, the very first Chicagoland Messabout was last fall. (Read about it here.)
It may seem premature to be jumping in with multiple messabouts each year, but Chicagoland is unique in that regard. First, there are a LOT of people in the greater Chicago area, including plenty of guys doing dangerous things with power tools. We already have 16 messabouters on the list. Second, it is positively a way of life to own a boat either to drag it north for fishing in Wisconsin or to sail the big lake. Third, it's COLD up here and the "sailing itch" gets nearly unbearable through the winter. The messabout provides us an excuse to jump-start our season as early as possible. Finally, it keeps us poor schleps from feeling too terrible that we have to miss Cedar Key and the Duckworks Gulf Coast Messabout, which are coincident with our primary date and "rain date". Of course we try to control our envy of those with sufficient vacation time and gas money to attend these hallowed events. Mostly.
But if those tropical saltwater cruises serve as odysseys for the Northern messabout community, the Chicagoland Messabouts are quite the opposite. It's easy to get to from Wisconsin, and downright convenient from anywhere in Chicagoland. Strictly a one-day event, this messabout is located at Busse Lake, which feels strangely rural even though it's less than a mile from the intersection of I-290 and I-90, and within rifle shot of the Gateway Mall.
Not that I suggest you bring a rifle. In fact, you shouldn't even bring a motor. Gas-powered motors are prohibited and you're not allowed to bring them on the lake at all. But it's OK, because the lake is not that big, so you can't get blown too far afield even in a full gale. And the trees block much of the gusty bluster of spring. Last fall we got very lucky and some rather windy conditions provided spirited, but not overpowering sailing. In such a small lake, one sails back and forth in a small area, annoying fishermen and taking photos of one another's boats. Rather like aquatic camera jousting. Best of all, one gets to ride in other people's boats, which is the learning experience that makes these events so worthwhile.
OK, I'm done pontificating about the wonders of messabouts. For now. But do drop me a line if you plan to come. That way I can let you know if we need to fall back on the "rain date".
Rob Rohde-Szudy
Madison, WI
robrohdeszudy@yahoo.com

Hi Chuck
I just saw the current Duckworks homepage picture of "Rachel" checking out the unfinished Folding Kayak.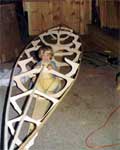 I just had to send you this picture of our Son, Chad (now 31 years old) in our unfinished Folbot, "Super", 1978. From our scrap book. Chad was born, May 14, 1975. If you notice, the Room is still unfinished (but with important, roof, floor and walls) but priorities were to build a boat befor that part of the house was finished. The unfinished room was just the right size to assemble the Folbot Kit and a little sawdust didn't hurt anything.
It's really a Shame Folbot no longer provides wooden Folbot kits. I know a lot of Folbots were built and lot are still around. We have used that Folbot over these many years and Chad now has it at his new home and continues to use it regularly.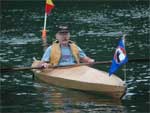 I recently built my Plywood "Phoenix" so I could join him and his "Fiancé" on outings. (you had a nice article on that "Phoenix") Had to enclosed a picture of "Phoenix" to refresh your memory. It is a plywood, reproduction of a Folbot, "Sporty".
Just thought you might appreciate the photos And, having lived a similar life style, the fact that sometimes a Boat take precedence over a little more house building.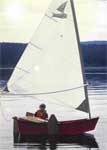 And, just had to throw in another picture of Chad, Sailing my "Elegant Punt" "Toad" when he was 5 or 6. I still have and use that little (Luanne) boat regularly.
Chad first went "Fishing" when he was only a couple of months old in a plywood "Dory" I built . Put him in a wicker bassinet in the middle of the boat while the rest of us fished.
You ought to drop in on the Western Oregon Messabouts Yahoo Group. Much of the recent conversations involve the creation of an "Ol' Coots" fleet of Puddle Duck Racers" "PDR" - One of our newer members, Andrew Linn, build one of the first PDRs and has been trying to get others in the group to build one too. He finally got response when he mentioned "Racing" them.
I don't know about You, but Any time I am in a sailboat and there is another sailboat anywhere on the lake, It Is A Race. <g> But, until this there has been almost no interest in racing little sailboats. Along with the PDR discussion there is a lot of talk and question regarding "Cheap Sails" to use on them.
And, Good for You, there is a lot more interest in the group in buying materials and hardware from You. I guess having quality products at a good price Is Working. Thanks for that again. You really put Your Money where a lot of people mouths have been. Good Job. Your efforts Are appreciated.
Have Fun
Pat Patteson
Molalla, Oregon

Chuck - A British artist has developed a self-sailing boat. No, I don't know what the point was either but the boat looks very nice and the computer system for sailing her was developed by scientists at Southampton University so it must be top stuff.
The "art project" is fully described here and the techie bits are here
Personally, I feel that building a boat and then getting a computer to sail her is a bit like making lobster thermidor and watching the cat eat it but what do I know?
All best,
Chris Partridge

Coleman introduces Revolutionary FYRestorm Stove
Exponent One-Burner Offers Best of Liquid Fuel, Canister Worlds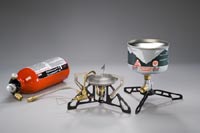 WICHITA, Kan. – Lightweight, wind-resistant and powerful, the new Coleman® Exponent® Fyrestorm™ Ti Stove provides optimal performance in all conditions. This single-burner stove runs on multiple fuel options – Coleman camp fuel, unleaded gas or a standard threaded butane/propane canister. The canister mode features liquid withdrawal for uncommonly high performance at below-freezing temperatures, high altitudes and throughout the life of the canister. The liquid fuel mode features improved pump efficiency and faster starts over other liquid fuel models.
Further bolstering its performance, wind-resistant features were built into the stove, and an aluminum windscreen and reflector disk are included as accessories.
The Fyrestorm Ti Stove is one of the lightest multi-fuel backpacking stoves on the market. Its burner and serrated pot supports are built with ultra-lightweight, high-strength titanium – a first for Coleman – and magnesium-alloy tripod legs. Alone, the stove weighs a mere 8 ounces. With the liquid fuel pump assembly it weighs 11 ounces, and with the canister adapter 11.8 ounces.
"The introduction of the Fyrestorm Ti Stove is an example of our new strategy to address the needs of specialty retailers and their customers," said Gary A. Kiedaisch, president and CEO of The Coleman Company, Inc. "With this product, we take an important step toward addressing the high-end adventure market."
Powerful and Fast, too
Featuring precise flame control from simmer to full boil, the Fyrestorm Ti Stove is rated at 14,000 Btu when used with canister fuel and 10,000 Btu in its liquid fuel mode, making it one of the most powerful backpacking stoves in the world.
In the canister mode, boil time for the stove is 3 minutes, 10 seconds for 1 liter of water, and run time for a single canister is 45 minutes on high.
FYRESTORM – add one
The Fyrestorm Ti Stove is designed for use with Coleman® model #3250-702T canister fuel with a 70/30 blend of butane/propane, but it also operates on most threaded Lindal valve backpacking canisters. (Other canister fuels vary in size, fuel blend and ratio of fuel mixture. Using them may affect performance.)
In the liquid fuel mode, boil time is 3 minutes, 45 seconds for 1 liter of water, and run time is 1 hour, 15 minutes on the highest setting.
(Standard testing conditions to determine boil time include a covered pot of water, approximately 60-degree ambient temperature, and test conducted at low altitude.)
Fuel for Every Occasion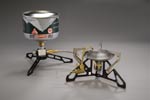 Canister fuels and liquid fuels each have their advantages. With the Fyrestorm Stove, the best-performing fuel can be used to match the conditions, and switching from canister to liquid fuel mode and vice versa is quick and easy. In addition, the stove has high-performance features in both fuel modes.
The stove's unique butane/propane canister adapter is designed to invert a canister, thus converting it for liquid withdrawal. An industry first, this pioneering feature optimizes performance of the stove in cold temperatures and high altitudes.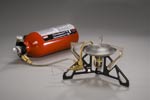 In liquid fuel mode, the auto instant-light feature requires no priming or pre-heating of the generator and shortens the time from start-up to full ignition, saving fuel and time. The stove automatically senses when it needs to change the mixture of fuel – richer to start, leaner once the stove is running. In addition, the improved pump design requires 30 percent less pumping than with Coleman's previous liquid fuel backpacking stoves. The liquid fuel pump assembly and a 22-ounce fuel bottle are included with the stove.
"When developing this new stove, we looked at everything from materials, to fuel sources, to ease of use," said James Christians, project manager. "Our goal was to come up with a new industry standard, a stove that gives users everything they need. We think we've achieved that with the Fyrestorm Ti Stove."
Canister Fuel Advantages
Canister fuels are convenient, clean burning and easy to light.
Pressurized fuel canisters eliminate need for pumping.
Many commercial options available.
Liquid Fuel Advantages
Fuel is easy to find and inexpensive.
High heat-to-weight ratio.
Excellent performance in cold weather and high altitudes.
FYRESTORM – add two
Increased power output by pumping.
Recommended for longer trips.
Other Features of Fyrestorm Stove
Swing-out design creates a wide, stable cooking surface, suitable for large pots.
Large diameter burner distributes the flame evenly, preventing scorching.
Detached-burner design provides a low center of gravity and allows the fuel source to be placed away from the burner.
Easy field maintenance with built-in cleaning needle in flame control, so cleaning can be done while the stove is in use.
Folded stove nests in most standard backpacking cook pots, for compact stowage.
Availability
The Fyrestorm Ti Stove will be available in spring 2006 through specialty outdoor retailers for $189.99 suggested retail price.
A lower-priced, slightly heavier alternative – the Fyrestorm SS model – will be available in spring 2006 through sporting goods and specialty stores for a suggested retail price of $149.99. It has all the same features as the Ti version, but stainless steel replaces the titanium.
The Coleman® Exponent® product line is available exclusively through sporting goods and outdoor retailers throughout the United States, and select Exponent products are available in Canada, Australia and Latin America. Consumers can contact Coleman by phone at 800-835-3278 or by e-mail at consumerservice@coleman.com.