Wind in MY Face
I have the need to feel wind in my face just for fun not in a race.
The sound of my hull as it makes love to the water while finding the rhythm as only those in love can find.
The Sound of a great symphony played through the shrouds played just for me and not the crowd.
The simple pleasure of a tiller
held tight in my grip while the sun warms my soul and the wind my lips.
The pleasure of white wings delivering me to my past as the seas spray flows in and down my chest.
Can pleasure be found while being one with an inanimate object that takes on the illusion of a soul?
Its here I find Leisure from life's storms, those to come and those in the past.
My anchor made ready with bitter end knotted well, while it waits to hold my simple craft in lifes impending gale.
The pleasure of wind found in my face just for fun not seeking a race.
Though Life's race must be run weather sad for fun while dealing with the wind from behind or on a run.
This pleasure is all mine just being in this place with wind and sun basking my weathered face.
The pleasure of my craft making love to the sea, is the pleasures I find just living you see.
My mast may be frail as well as my sail; it's the memory of my life that will keep me anchored in life's gale.
As the pleasure of life's Storms present and past give way to life's peaceful night of rest.
To sail in the Dark is not fearful to me it awakens the senses and allows me to be set free.
With one eye on the present and one on the past will make the Pleasure of Life's Wind last and Last
I fell the need for wind on my face just for fun and not in a race.
Ron Thweatt
2007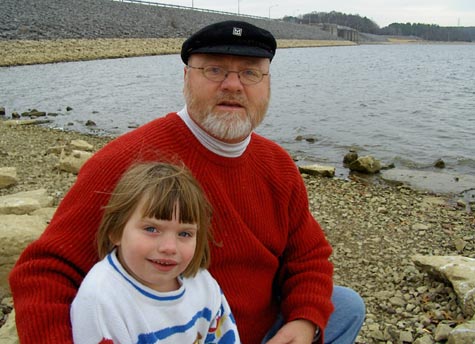 Captain Ron and a friend

More Original Poetry: