By Duckworks Readers - all over the place

Jonsboat
I decided to build Jonsboat first, so I could learn a bit before tackling my sailboat. It's been coming along pretty well. I have been having a lot of fun with it. Here's a picture of it after I have the bottom mostly done. A bit more sanding and I'll be ready to flip her over and finish the inside. Thank you again for your help, this has been a very fun new hobby (although my wife is asking when she can have the garage back).
Chris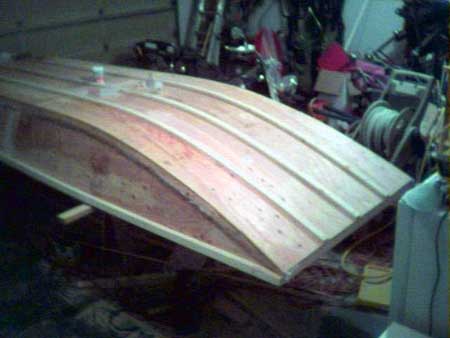 Not a very good picture, I know. I took it with my phone.

Kayak Builder's Bash
Drove over to the Tex Kayak Builders Bash on Sat- MANY neat boats there. Here's one BIG unmassaged shot, with my two Birders right up front.

Charlie Jones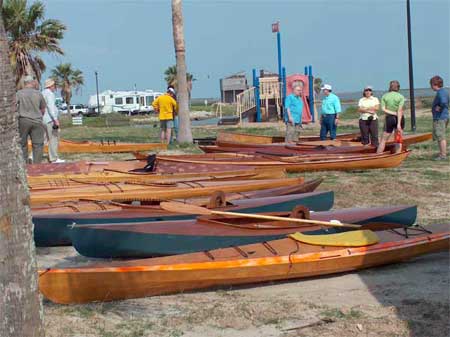 Logo
I found your site about three months ago and felt right at home. Since then I have purchased a set of plans from Mr.Jim and have started on the VeeP 14.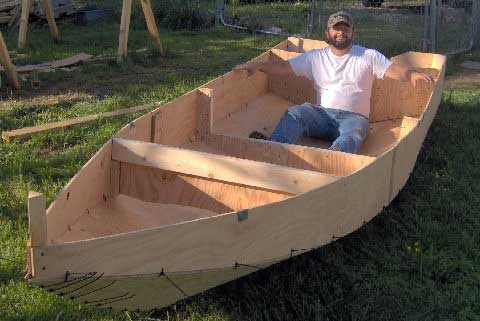 I feel that everyone should know about your site so I would like your permission to put your logo on my boat.
That is basically it .

Keep up the good work.

Bryan
KG4ENB
Maryville TN

RECOVERING BOATAHOLIC FALLS OFF THE WAGON
I swore "no more boats" a few years ago. (It's not important how many I have; don't ask.) But there are no "former" boataholics, only "recovering" boataholics versus those who have fallen off the wagon. I fell off the wagon last week. I confess (sob) I bought another boat.
I could blame fellow Scuzbum Jeff Clark. He's the one who told me about cheap boats and boat stuff for sale on the "craigslist" website https://geo.craigslist.org For those unfamiliar with this website it's a free online classified ad system which operates worldwide, but organizes its ads in local/regional pages. Cruising the ads became regular "entertainment" until the inevitable happened. If you're a recovering boataholic and you want to remain recovered, then I suggest that you stay away from craigslist.
So let's put aside my shame and regret and I'll tell you about my new $50 boat. It's a little under 14' long x 32" wide, fiberglass decked canoe or fat kayak, depending on how you look at it. It's very light, easy to hoist on my shoulder and carry. I'm thinking it would look good with a kind of Gulf-of-Mexico-light-blue-green paint on the deck
It's not quite what the ad described, but after driving 60 miles thru southern California Saturday traffic to look at it, going home empty-handed seemed worse than spending $50 on not exactly what I was hoping for. See, boys and girls? That is the great trap of craigslist. Avoid it or end up like me!
The attached photo makes it look pretty good, after hours of cleaning it up. My plan is to make it into a multi-purpose craft that can be paddled canoe or kayak-style, rowed or sailed, and have enough stowage space for bare-bones camp-cruising. My friend Joe is going to loan me a little lug sail rig to experiment with. Of course I need another boat or another boat project like I need a hole in the head. If any readers feel themselves falling in love with the photo, feel free to make me an offer. For me, selling would be the path to recovery.
Kim Apel

KD 860
Hi Chuck
I see in your magazine that the messabout season has started and you have a lot of material. I am sending you here the first picture of a KD 860 in Portugal. I am proud of the fact that amateurs in a country which is surely not known for amateur boat building have built the boat in such a short time. They started in November 2006 and 7 months later had the boat on the water.
Best regards
Bernd Kohler
https://www.ikarus342000.com/

Missing yachtsmen's families continue search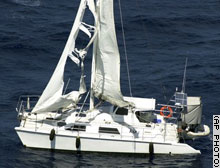 BRISBANE, Australia (AP) -- Relatives of three Australian yachtsmen whose catamaran was found drifting off the Great Barrier Reef vowed on Monday to continue searching for the missing men, as theories about their mysterious disappearance continued to emerge.
On Sunday, police called off their search for skipper Des Batten, 56, and brothers Peter and James Tunstead, aged 69 and 63, saying the men had probably been swept overboard nearly a week before, and were unlikely to be found alive.
Click HERE for the rest of this story

Fishermen Rescued
Last Wednesday morning a couple of young guys left Freeport (a few miles down the coast from Galveston ) in a 23 foot Mako and went 36 miles off-shore to a popular fishing spot known as the Lump, or the Twentytwo Fathom Lump. They were busy catching fish and apparently didn't notice the boat was taking on water until it was too late. Just as they turned on their VHF to send a distress call the boat capsized, but not before both men grabbed their PFD's and put them on. They also grabbed a couple of bottles of water. Then they climbed on to the bottom of the capsized boat and waited.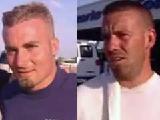 Missing fishermen Michael Phram, Aaron Pilcher.
Family members ashore reported the pair missing that night and the Coast Guard began searching for them the next morning. But though the men reprted seeing choppers and airplanes , none came near enough to spot them. They even fired a flare in an attempt to attract attention but to no avail.
By Thursday night the men had drifted to within less than a mile from an off-shore oil platform. At that point they decided to abandon the up-turned hull and swim for the rig, but currents carried them away from it. Later that night they drifted close to another oil rig and one of the pair was able to swim to it, find a ladder leading up to the platform and, despite being exhausted, climb it. Much to the surpise of the rig's crew, he simply strolled into the galley.
Once rescuers were able to narrow the area of the search they spotted the other man who was still in the water, and he was rescued by the Coast Guard patrol vessel Amberjack. Both men were flown to the hospital where they were treated for dehydration and released.
Several factors contributed to the two guys survival. One was the water temperature, which this time of year is in the upper 70's. Another was that they had heavy-duty pfd's, the kind used off-shore, and not the typical light-weight type usually worn by recreational boaters which, according to the Coastie spokesman, would not have stood up to that much time in the water. Another factor was that both fellows were young, strong guys in their twenties, and another was, of course, just pure good luck.
The Costies were elated that things turned out as they did. "We love happy endings," one of them said. The wife of one of he men said it may be a long time before she lets him go off-shore again, and that "I think we'll just stay on the lake where we can see the shore."
Contributed by Tyson McLeod in Galveston


Have you always wanted to build
the Pelican?
Now you can!!
Our new easy-to-build kits can be shipped
to your door at minimal cost!
New, easy instructions!
Everything pre-cut!
No jigs!
Our new kits produce a classic San Francisco Pelican
with minimum time, tools and space.
All parts are pre-cut, ready to assemble
and made from the highest quality
marine plywood, mahogany,
sitka spruce and douglas fir.
The Boatshop at Stillwater
Jeff Lehman, boatwright
email: tritoncapt@yahoo.com

Hankinson Barrelback Mahogany Runabouts,
Planing Tugboats and Wide Body Designs
Now Available Online
They're here! All of the Ken Hankinson designs we have been telling you about are now listed online and available for sale. I know I said mid-April, but yippee cayee, we're a couple of weeks early!
| | |
| --- | --- |
| | 18' Biscayne |
| | 11' or 12' Bullet |
| | |
You'll find a selection of barrelback designs, classic mahogany runabouts, tugboats up to 29', driftboats, wide body designs and much, much more...
Click HERE for more info.
Happy Boatbuilding,
Gayle Brantuk
Glen-L Client Services
Visit our Online Store
update@glen-l.com

The Great Lakes
Boat Building School
After a few false starts it looks as if spring has finally arrived up here in northern Michigan. Mother Nature needed a little help from the building crew, but the frost is out of the ground and construction is well under way.
Our building committee has done a fine job of coordinating the construction process, and, after advertising for bids, awarded the project to a number of local contractors and suppliers including McMaken Construction, Kester Plumbing, Bryner Electric, Belonga Plumbing, Reichlin Painting, Great Lakes Roofing, Eastern UP Drywall, and Taylor Lumber. L&L and Great Lakes Masonry continue to work on the steel framing and foundation, and Dan Fick is back on the site to supply additional excavation work. Last, but certainly not least, Mike Tassier at Thick and Thin is supplying the cottage style siding for the building. Thanks to all of you as this project continues to take shape.
| | |
| --- | --- |
| | |
The website has been updated and improved, and if you haven't visited in a while now is a good time to catch up. The month of April has seen 690 visitors go to www.greatlakesboatbuilding.org. Our Summer Workshop poster is available in pdf form, and a printed version is available for mailing to prospective students. Classes in kayak building, paddle making, metal casting, marine surveying, half hull model making, restoration, repair, and boat building are all on the schedule. Using plans from the Maritime Museum, professional South Haven boat builder Mike Kiefer will head a course in August giving students the hands-on experience of building a 16 foot Chippewa, a boat native to our area. In September we will have the privilege of having Rich Kolin at our boat school to teach students how to build the Heidi skiff. Rich is a nationally know boat builder, author, and teacher, and we look forward to having him back as a visiting instructor during the full-time program.
Materials for the full-time program can also be found on the school's website. A simple but handsome pocket folder is being produced so that specific course information can be easily changed and tailored to the individual recipient.
The School is currently running ads in a number of newspapers and trade magazines, and response has been strong from people interested in the summer programs as well as the vocational classes. Amy Polk has written two more terrific articles in the paper, and we hope to have more coverage statewide as the building nears completion. We are also exploring other promising marketing venues such as Monster.com which has already generated phone calls about the boat school. Pat Mahon, Dave Janz, and I will be hosting several "town hall" presentations around the area to target additional prospects for the full-time programs. The first event is scheduled at North Central Michigan College in Petoskey on May 8, and we are planning a similar program at LSSU and other surrounding campuses. We feel that one of the strongest markets for potential students may include workers seeking re-training in the skills needed to find work in healthier businesses such as the boat building industry, and we are working with Michigan Works! to promote those opportunities.
I welcome your comments, suggestions, and input as we move from a "building under construction phase" to actually holding workshops and classes. I know that many of you have tremendous experience in many areas that can benefit the school, so please don't hesitate to share that very valuable asset with us….it's always welcome and appreciated.
Thanks again, and I'll see you on campus soon.
Dave Lesh
Director
Great Lakes Boat Building School
1.906.484.1081


Ship Simulator 2008
Rotterdam, May 16, 2007
After the worldwide success of the first Ship Simulator title in 2006, which sold more than 150,000 copies to date, VSTEP is proud to announce its sequel, Ship Simulator 2008. Slated for release in the UK and Germany mid July 2007 and for other countries in September, the new version contains many often requested features from the hugely active user community:
1. Three brand new exciting sailing areas: San Francisco, Southampton/Solent area incl. Cowes, and Marseille.

2. Nine brand new vessels, from pilot boat to supertanker, including even a massive offshore oil rig

3. User-controlled harbour container cranes

4. Ocean waves, with realistic ship motions

5. Long-distance trips between harbours (open sea missions)

6. Walkthrough option on all ships

7. Interactive bridge controls on all ships

8. Advanced weather system

9. New navigation instruments, including a depth meter

10. Mid-mission save function

11. Visible damage on ships after a collision

12. Advanced towing, anchoring and mooring rope operations

13. Complex and challenging missions, like chasing other ships, container loading, rescue operations

14. Free-roam option: select a ship, a sailing environment, set the weather and wave conditions, and start sailing!
Previously announced as Ship Simulator 2007 earlier this year, the decision to hold back the release the middle part of the year has prompted the decision to change the title to Ship Simulator 2008. This also reiterates the company's commitment to support the product with add-ons and new features throughout 2008.
Says Pjotr van Schothorst, the game's producer and director at VSTEP: "It was great to see so many people having fun with the first edition of our game. Not just youngsters liked it, but a large group of older people, many of them professional sailors, became almost addicted to the game. I am happy that our development team was able to address most of the often requested features, promising an even larger active user community for the new version."
Links to the first screenshots and video clips of work-in-progress:
• Images:
For more information about Ship Simulator 2008, refer to www.shipsim2008.com, or contact:
Pjotr van Schothorst
CTO, VSTEP BV
Weena 278
3012 NJ Rotterdam
The Netherlands
+31-(0)10-201 4520
+31-(0)6-28330280
pjotr@vstep.nl
Profile VSTEP (www.vstep.nl)

VSTEP develops professional simulators for fire-fighters and nautical training. Since its initiation in 2002, VSTEP has completed 30 training simulators for customers like the Royal Dutch Navy, the Port of Rotterdam, Falck/Nutec, the Dutch Railways, and DriveZone. VSTEP's experience and core technology from these projects has been adapted to deliver a "true to their roots" simulator for the home PC user.

Background Ship Simulator (www.shipsim.com)

Ship Simulator is a revolutionary ship simulation game, whereby you get the ability to steer various ships in different environments. Both the graphical quality of the ships and their dynamic behavior are completely realistic, so the game is not only fun, but you learn something about ships and ship handling as well. The initial version was released in 2006 in 20 countries and 7 languages and sold beyond expectation. Its success led to the development of an add-on pack with 6 additional ships, and a Professional edition aimed at Nautical Schools.

QuickerTek Announces Marine Wireless System Special
Greetings from QuickerTek!
With spring in full swing many folks that have boats will be out on the water. So we've decided to run a special on one of our Marine Wi-Fi Systems!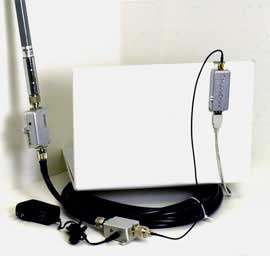 For $399.99
(regularly $499.99)
This special savings system includes:
1Watt outdoor Transceiver
DC Injector
7dbi antenna
25ft cable
adapter cable
instruction manual
mounting hardware
This Special Wireless System connects your Mac or PC wirelessly from your boat to the Marina's network easily with our wireless system!
For more information visit:
Place your order quickly because this special won't last long!
If you have any questions, please contact us either by email at sales@quickertek.com
Or by phone at (316) 691.1585

NauticalCharts.Com

Special Offer

Greetings!

Waterproof Charts Inc. has a brand new line of charts.. Gold Series Inshore Fishing! We would like to offer you free Priority Mail shipping with the purchase of any chart!! ALSO THE FIRST 15 ORDERS WILL RECEIVE A FREE VINYL CASE FOR YOUR CHART!!! ALL ORDERS MUST BE RECEIVED BY MAY 31, 2007. PLEASE MENTION "FREE SHIPPING" IN THE COMMENTS SECTION OF YOUR ORDER!!
---
Free Shipping
These charts are a must have for the inshore fisherman. They give specific areas for various fish species, as well as grass flats and includes a marine facilities guide giving detailed information on different boat ramps, bait stores and popular dining spots.
The Gold Series charts actually come folded in an eye catching folder with a beautiful artist rendering on the cover (depending on the area it is either a redfish/ trout or a snook.)
Learn More
---
Please don't forget to take advantage of the savings ($9.00) and purchase your Fishing charts today!

Sincerely,


Kerri Kibbe

NauticalCharts.Com
---
phone: 866-624-2787
Valid through May 31, 2007