| | |
| --- | --- |
| July Reports | |
By Duckworks Readers - all over the world

A Rogue down under
Dave Purdon, living in Dunedin well down the East Coast of New Zealands South Island built this Rogue about 13 years ago and has just sent me this photo of her sailing off Port Chalmers in the Otago harbour. I lived there for some years and really enjoyed the sailing on this lovely harbour as well as the proximity to the alpine Lakes that are close enough for a weekend cruise with a trailerable yacht. - John Welsford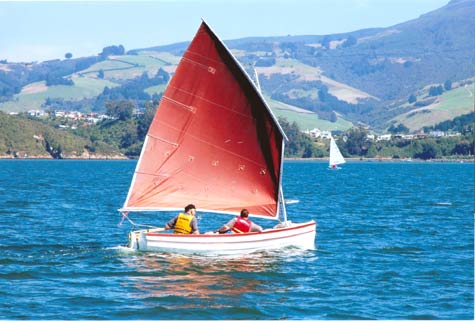 From Dave:
Hello John

I thought you may be interested to see my 13 yr old Rogue sailing at Port Chalmers in February 2006. Two big guys and 50kg ballast on board.

Photo by Rob Wood.

Thanks again for a fine design.

Dave Purton
Dunedin

Ahoy,

Due to popular demand, we have just released plans for the long awaited big sister to Origami, the amazing folding dinghy you can easily build yourself regardless of your boat building experience. The new version, the Origami 8 can carry three people and is the answer to the age old problem of where to put a dinghy on your small cruiser, and perhaps just as importantly, where to put it during the winter, when you're not using it. Because the Origami 8 folds to just a few inches it can be stowed almost anywhere. It's also perfect for camping and fishing trips, it's stable and nice to row. It can even take up to a 3.3 hp outboard motor. Assembling an Origami is childs play and takes just moments. Despite it's light construction the Origami is a very tough dinghy with wood trim that protects the cloth.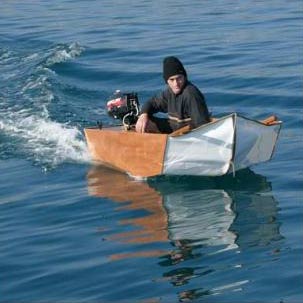 Just like the classic 6 foot version, the new Origami 8 is easy to build. The plans contain all the information you will need even if you have never built a boat in your life. There is additional information on all aspects of boatbuilding and finishing. Over 100 photos guide you effortlessly through the building process. Origami plans are unique as there are no cumbersome paper patterns to deal with. If you can use a tape measure, you too can build this dinghy. A wonderful confidence builder, after building an Origami you will have the confidence to take on more ambitious projects.

Plans are now available from Duckworks for a very reasonable $54. They come as PDF file which downloads in moments. The Origami 8, just add water!

Cheers

Benjy,

Chuck, I hope I catch you before you take off for the San Juan's. I'm envious of your adventure but hope to read about it one of these days.
I thought I'd send you a shot of my Weekender, Julie K, with her new suit of Duckworks sails. I love the look and they are just right. I got a number of compliments from folks at the Minnesota Messabout this past weekend.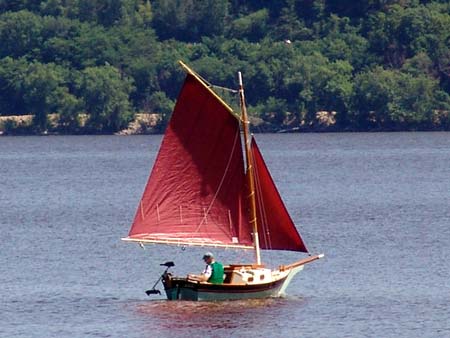 I expect you'll get some more pictures from Bill Paxton along with his tales about the gathering which was a lot of fun.
Enjoy your trip.
TTFN
Dave Richards

Tim has the video of the entire PD race uploaded here:
www.planotim.com/__Phoenix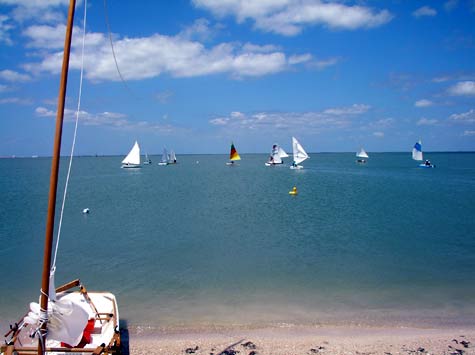 The single big file is the entire race, the little files are the big one split up into smaller pieces. The small pieces can be assembled with HJSPLIT.EXE program.
Shorty

I am looking forward to seeing the pictures and reading about your messabout! I am making plans to bring a lapstrake Ducktrap wherry to it next year.

Only have one more jon boat waiting for restoration. It is a average 14' MonArk on a average jon boat trailer, and 25 Evinrude that I owned once before 3 years ago. You want a "how to" on the project? I have been paying for my habit with these projects for a while now and I think I have the combination dialed in pretty good. Anyway after this john boat I am going to find out if people in Michigan will buy a AuSable from me. They might as it is a rare specialty boat - even more special when mine folds in the middle to make a 24 footer managable on a jetski trailer.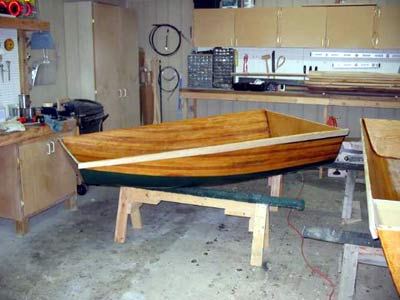 Well, I am looking forward now to finishing the trout boat - am at the point of doing one or two little things a day. Of course they will add up quickly and before I know this one will be in the bag. Might be too cute for a fishing boat - maybe, until I bash it around some and beach it on the rocky shore!
Larry Pullon

Hi Chuck. To be featured (in B/W of course) in my final December O6 issue of WINDLING WORLD, is the absolutely incredible fully RC, 7' long model of the SEA CLOUD which my good friend and fellow modeller in Queensland, Australia, Richard Mayes finally launched after a seven year build on 25th April. This was the 75th Anniversary of the launching of the real SEA CLOUD.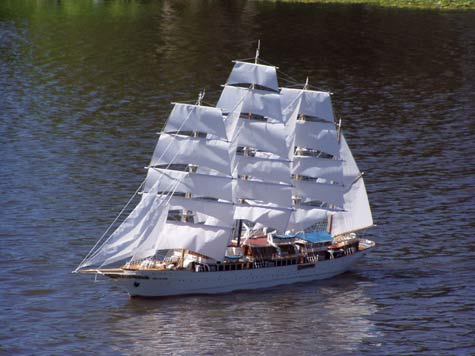 Hope you are well, Mark Steele

We have been fiberglassing on Charlie's Sundowner all day,
Pic of day ones fiberglassing attached. The yellow stuff is kevlar. - John Welsford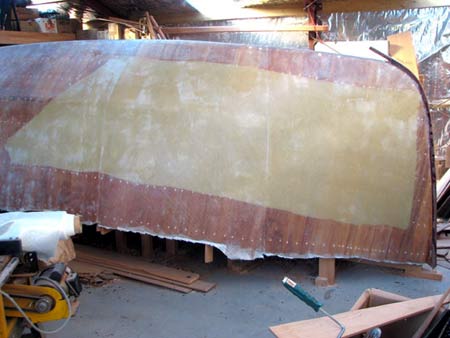 The Little Easy
The Little Easy is designed to be truly a boat in a box. Both the boat and trailer come ready to assemble, and packaged in a single box. All you do is open the box, bolt the trailer together, and then assemble the boat on top of the trailer.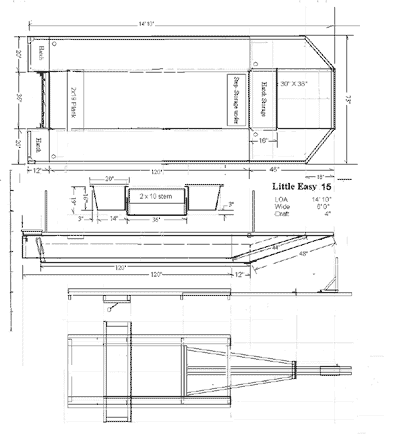 click image above for larger view
Although the boat is only 15 ft long, it is one tough bull-strong boat that gives you great stability for fishing, duck hunting, or family boating fun. It is unsinkable with the foam filled side hulls. Because of the light weight, it should tow like a dream behind any small compact car or pick up.
It is small enough to go in your garage, yet has great storage room for fishing gear, hunting equipment, or family life jackets and floats. It should make an ideal "Roadee" second boat for those that have a larger boat, but don't want to pull it to far off places to vacation, fish, or hunt. Instead, they can leave the big one home, and still go with small.

Hi,
I found your website while searching for information on boats and boat transportation. You have a lot of great information on your site. I especially liked your extensive coverage of information about all the different aspects of owning and building a boat. I work with a site (www.uship.com) related to boat transport. We offer people a free membership to list anything they need shipped, from household goods to vehicles to freight, and receive bids from thousands of feedback-rated service providers, including movers, carriers, transporters, van lines, freight brokers and independent drivers. Anyway, I thought that your site visitors may find the information about shipping boats for a discounted cost on our site to be of use and wanted to suggest adding us as a resource. Thanks for taking the time to read this email and keep up the great work on your site. It is definitely a valuable resource. I look forward to hearing from you.
Our boat section is located here www.uship.com/ship/boats
Sarah Schmermund
Sarah@uShip.com
uShip Inc.

Dear Wood Professional,
We would like to offer you a unique opportunity for a FREE listing in The Wood Market Online business directory.The Wood Market .com is one of the three commercial Web sites that make up The Wood Portal. We invite you to take a tour of The Wood Explorer Portal Sites:
THE WOOD EXPLORER -- A massive knowledge-based site featuring 5,000 tree species. https://www.thewoodexplorer.com
THE WOOD MARKET -- Dedicated to providing assistance in locating wood suppliers, as well as sources of supply for a broad range of related value added products. https://www.thewoodmarket.com
THE WOOD EXCHANGE -- A global Wood Exchange that delivers trading opportunities to companies and individual entrepreneurs involved in wood business. https://www.thewoodexchange.com
Your feedback will be greatly appreciated,
Thank you.
The Wood Explorer Team.