Yacht drama in Sydney harbour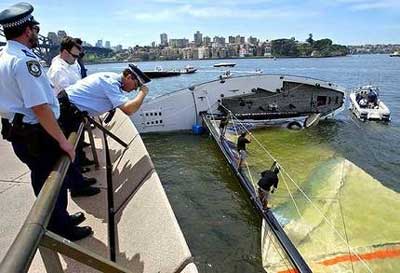 26/10/2004 10:59 - (SA)
Sydney, Australia - Sydney Opera House was the backdrop for a maritime drama on Tuesday when a former America's Cup racing yacht slammed into underwater rocks near the landmark, tipped onto its side and threw some of its passengers overboard.
The 22-metre yacht FT Spirit hit the rocks around noon on Tuesday, ripping the keel and ballast off the yacht and sending some on board - most of them experienced sailors - into the water, said deckhand Benny Mawson.
The FT Spirit was formerly known as the Spirit of Australia and contested the 1992 America's Cup in San Diego, California.
"It sounded like a large boom," Mawson told reporters at the scene.
"We came in too close and hit the bottom and as we did the boat pivoted on the keel and it ripped the big 20 tons of lead that keeps the boat upright, right off," he said, adding that none of the 12 people on board were injured.
Water police and local maritime authorities rushed to the scene and pulled the passengers out of the water, the New South Wales state Maritime Authority said.
One witness, Graham Ellis, said he was walking around the back of the Opera House, which sits on a headland jutting into the harbour, when the crash occurred.
"The boat was sailing up and down about three or four times," Ellis told reporters. "Then I heard a huge expansive crash which lasted for about two or three seconds. It seems to me they just went too close (to the edge)."
A tug boat dragged the yacht, still lying on its side, away for repairs.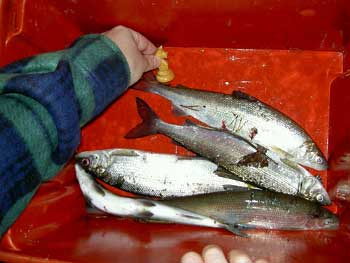 Hi!
Today my kids knocked the ice out of one of the boats and went fishing. Sitting by the fire they thought that they'd placed the net a bit wrong. Fixing it showed these fishes in the net. This amount is what you hopefully get in 2-3 nets over night in other cases. It's a sort of Salmon. This week might be the last with an ice free bay. The marsh and lakes are frozen.
Knight just to show the size.
Yours, Dejan Petrovic´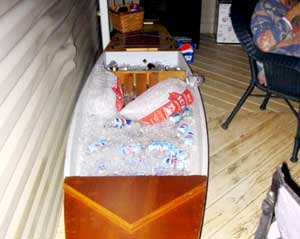 Chuck,
Thought you might like to see a photo or two of another great use for a Toto.... We had an oyster roast at my house Friday night and discovered that a Toto, besides being a great boat, also makes a great party cooler! Wouldn't want to try this without it being epoxy coated on the inside though :-)
Barry Johnson


Dave Robertson of www.woodenboat.net.nz has recently sold his Navigator Wairua. He'd done a fair amount of mileage in her, and loved her dearly but a household that now includes a partner, two dogs, a 24ft Denis Ganley centerboard gaff cutter and a small business did not leave time for the smaller boat.
Shes gone to an owner from Wellington at the bottom of New Zealands North Island, and we wish her well with her new owner.
Here is a picture to remember her by, hopefully we'll see more of her in the future.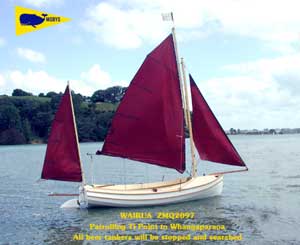 Dave, an ex Navy Chief Petty Officer, was in the habit of issuing "notices" covering voyages (patrols) and activities undertaken, heres one with Wairua ready for action.
(click image for larger version)
John Welsford



Arkansas Messabout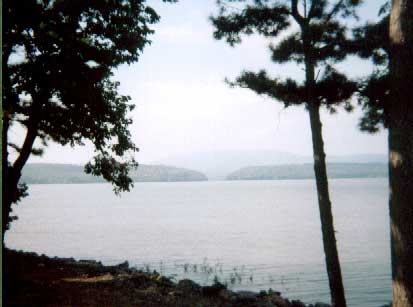 Click HERE for more info


Hi Chuck,
Saw your old Tennessee, now owned by Seth Macinko, and I thought how nice it would be with some shade from a light hardtop.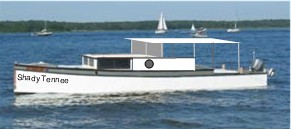 So I got fooling with my photo program and the attached is the result.
Bruce Hector


The new Ask The Skipper section of the Aurora Marine Club is now up and active.
This weeks 'Question Of The Week' is:
How do I keep my boat from smelling in the spring?
Bill Broderick asked:
I pump out my holding tank and flush antifreeze into the holding tank when I winterize my boat but in the spring the whole boat reeks. The smell seems to be coming from the toilet in the head. Is there anyway I can prevent this or seal the system so it doesn't smell up the boat? The smell gets into the upholstery and carpeting and the boat isn't very pleasant to be in.
The answer to this question can be found in the Aurora Marine Club at www.AuroraMarine.com.
Simply log into the Aurora Marine Club using your email and access the Ask The Skipper Forum.
Club members can review questions asked by other members and read the response. If you have a question about the care and maintenance of your boat that has not already been asked, you can "Ask The Skipper" and get your question answered by a professional.



REMOVE CURED 3M™ 5200
WITH
DeBond 2000® Marine Formula™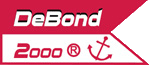 DeBond 2000® Marine Formula™ will now be available to customers throughout North America. DeBond 2000® Marine Formula™ is designed to remove cured polyurethane adhesives such as 3M™ 5200 without damaging the boat or the accessory. Now, when a lifeline stanchion, through hull, or engine bracket is obsolete or damaged and needs to be replaced, it can be removed and replaced without broken tools, missing gelcoat, broken parts, and short tempers. DeBond 2000® Marine Formula™ also removes and cleans up most caulks, sealants, adhesives, overspray, and black rub marks. DeBond 2000® Marine Formula™ is not for soft plastics such as Lexan®. However, when the directions are followed, it will not damage your clear coat, gelcoat, Imron®, Awlgrip®, or Plexiglas.
DeBond 2000, Inc. developed and patented their award winning DeBond 2000® Marine Formula™ adhesive remover and has been marketing it in south Florida on a limited bases. Our first customer wrote to us and said "This Stuff Really Works". Since then, reports of the successful use of and requests for DeBond 2000® Marine Formula™ have materialized from across North America. DeBond 2000, Inc. is now ready to meet those requests.
Our web site, www.debond2000.com, has information on DeBond 2000® Marine Formula™ including a product overview, product use instructions, warnings, Material Safety Data Sheet, retailers and outlets, purchase on line page, and testimonials.
Charles Norburn
DeBond 2000 Inc.
Office: (561) 575-4200
Mobile: (772) 519-2983
Fax: (561) 575-6655
norburn@debond2000.com


COATINGS AND EPOXY NEWS FROM:
PAUL OMAN - Progressive Epoxy Polymers, Inc.
MULTI VENDOR EPOXY SOLUTIONS© - urethanes, fillers, NSF 61, MIO, pipe wraps, low temp epoxies, barrier coats, and more!
home of: WET/DRY 700 (tm) Kevlar (tm) underwater epoxy paste
Frog Pond Hollow
48 Wildwood Dr
Pittsfield NH 03263

for questions email or visit our sites below:
info@epoxyproducts.com
www.epoxyproducts.com

INTERNET INDEX OF EPOXY WEB SITES - www.epoxyproducts.com/map.html
EPOXY CLEARANCE/DISCOUNT/OUTLET SITE - www.epoxyoutlet.com
LEARN ABOUT PROGRESSIVE EPOXY POLYMERS - click here


WINTERTIME EPOXIES
With winter here that means cold weather for most of us. Progressive Epoxy Polymers, Inc. offers a range of epoxies designed for application in cold conditions. Projects can be worked on even when temperatures fall near freezing. Temperature ranges are always approximate, but generally use the 'cold' weather epoxies for temps from about 38F to 55F and 'regular' epoxies in temps. from about 55F to 85F.
Here are our cold weather epoxies
Corro Coat FC2100FAST™ - The cold weather version of our FC 2100F. This epoxy contains Kevlar™ and feldspar ceramic for toughness and wear resistance. Can be brushed or roller applied and can be applied underwater. Boat owners use this product as a barrier coat on their fiberglass hulls. Engineers use it on dams and river crossings and business owners paint refrigerator units.
LTC 28™ - (LTC = Low temp Cure) - Our cold weather marine epoxy. Often used by boatbuilders working in cold garages and basements prior to the springtime weather warm-up.
Quick Fix 2300™ - A fast setting (or normal setting in cold weather) Kevlar™ reinforced epoxy paste. It is generally considered to be the fast setting version of our Wet/Dry 700™ repair paste (Wet/Dry 700 is often used for underwater repairs of pools, etc.). Can be applied up to about 3/4 inch thick. Use as a repair gel or epoxy gluing paste on dry or wet surfaces.
DO NOT FREEZE PRODUCTS
Our water based products cannot be frozen. We put DO NOT FREEZE labels on them and have been 'lucky' so far. If you need these products order them now before it gets REALLY cold.
Bio Vee Seal™ - Our internal concrete sealer, used to reduce the moisture (dampness) associated with moisture moving through concrete slabs, foundations, etc. This is not an epoxy.
Agua Rock™ - A light gray, water based, floor epoxy. A favorite floor coating conveniently packed in 3 quart units.
Solar Guard™ - Our newest water based product. Solar Gard is a clear acrylic with lots of UV blockers in it. We offer it mostly as one of two Clear-coats that will keep epoxies from yellowing. This is not an epoxy.


GEM Products To Unveil Weather-resistant Steering Wheel For The First Time At IBEX.
The Gemlux Tournament Series Steering Wheel features the first 'no slip grip' that resists the elements and provides improved comfort.
ORANGE PARK, FL (October 18, 2004) It was somewhere during the halfway point of a long fishing trip in 2003 that GEM President Matt Bridgewater got the idea. The combination of rough seas, wet weather and the hard stainless steel steering wheel had taken a toll on his hands. Bridgewater immediately sought out to develop a new product that maintained the sleek look of a stainless 3-spoke steering wheel, but featured a comfortable and weather-resistant rubber grip.

Almost one year later, GEM will unveil this innovative new steering wheel with a rubber grip that has successfully passed 200 hours of salt spray tests and 500 hours of UV accelerated weathering tests. The comprehensive independent lab tests revealed no signs of surface corrosion, delamination, discoloration or fading of the outer coating. The result is a steering wheel with an improved grip and the quality and durability that can handle the harshest of environments.
This steering wheel, called the Gemlux Tournament Series Steering Wheel will be unveiled and offered for the first time during IBEX later this month in Miami.
"This new wheel represents more than a year of concepts, designs and tests and we could not be more pleased with the final product," Bridgewater said. "We expect interest to be high and sales to be brisk since there is no other product like this on the market."
The Gemlux Tournament Series Steering Wheel features a 3-spoke design with a rubberized padding on the outer wheel. The 3 spokes have exposed stainless steel coated with the GEMLUX® Electropolishing Process. Full-scale production is planned for early November and the first orders will arrive to customers by December 1.
The unveiling of the new wheel follows the recent launching of a new online ordering system at www.gemlux.com as well as a new logo and overall brand strategy that better demonstrates the existing quality of the GEM product line. In addition, it creates a consistent use of the company name GEM PRODUCTS, as opposed to GEMLUX, the electropolishing process which become so well known and established that it oftentimes replaced GEM as the company name for many of its customers.
Gem Products Inc, is a marine industry leader in the manufacturing, distribution and electropolishing of stainless steel products. In its 40 years of business in Orange Park, FL, Gem has created hundreds of hardware options for boatbuilders and owners, from steering wheels, latches and hinges to rod holders and lift pulls. All items are protected by GEMLUX, one of the best known anti-corrosion processes which eliminates many of the problems associated with even the most sophisticated stainless alloys.